The Smart Grid People
New Patagonia Energy Applications, Gen 4 PP Meter Launch, Security Award, CSR, Industry News and More
Newsletter April 2017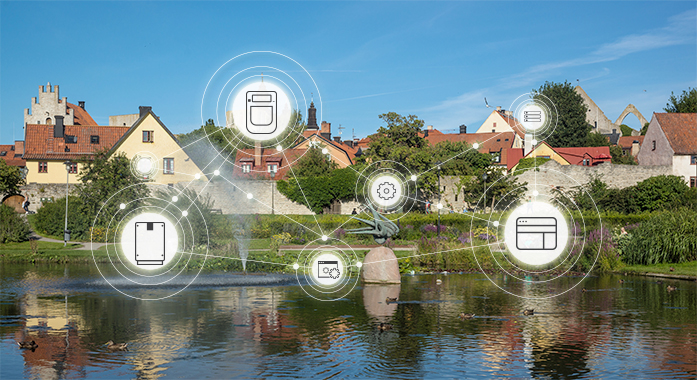 NES Patagonia Energy Applications Platform in Cooperation with Vattenfall R&D Successfully Launched
During the last 4 months, NES developed a suite of applications designed to increase grid insight, operational excellence and efficiency. The project has been funded and developed in cooperation with Vattenfall R&D Sweden as part of the Smart Grid Gotland Project. The island of Gotland has been selected to test and showcase various Smart Grid technologies and programs using Gotland Energy AB's (a 75% Vattenfall company) distribution grid which offers an ideal test bed for new applications.

For the Smart Grid Gotland program, new meters and a number of NES DCN 3000s have been installed in the field. Leveraging new features of the advanced data concentrators and grid-aware meters, a project was initiated to research the potential of the embedded unique Low Voltage Grid Mapping (LVGM) function and advanced grid-sensing capabilities of the NES smart meters. Three applications have been designed and implemented to understand the impact and value of this new technology.

1. Low Voltage Grid Mapping Application
The Low Voltage Grid Mapping Application reads and visualizes the identified structural topology of the low voltage circuit. This topology is derived using the LVGM function of the DCN, which uses the power line communication signal data and the patented LVGM algorithm to build a network of nodes. This information gets refined until with a high probability the wiring connections from the substation down to the individual residential meters are identified. Using this topology information as another source of information, next to the GIS and structural data, the utility can verify their grid infrastructure documentation as well as enable more applications that are based on this model.
2. Energy Balancing Application
The Energy Balancing Application is the first application based on the low voltage grid mapping application as it reads per-phase power readings from the meters in the field, unifies the phase order and aggregates over line segments based on the identified structural topology. This enables a per-phase low voltage grid power flow analysis for each individual feeder segments. Having exact data on per-phase loading helps Vattenfall identify which parts of the network contribute how much to the loading of the transformer and allows the grid operations, grid planning and maintenance engineering departments to optimize the planning, operation and troubleshooting of their grid assets.

3. Power Quality Analyzer
A second LVGM based application, the Power Quality Analyzer, has been designed to read the per-phase voltage data of the meters in the field and monitor the trend in voltage changes in relation to the other meters on the same circuit as well as the voltage at the substation. As done for the Energy Balancing Application, the analytic engine matches the individual phases and line segments to create a per-phase model of the network while the monitoring engine evaluates the readings and, based on the defined rules, will create alarms if changes in the voltage trending are detected. This data can then be integrated into the Vattenfall Low Voltage Monitoring system to enable an early-warning system of state changes in the Low Voltage grid, further increasing operational excellence at Vattenfall.

Currently the project applications have been deployed and the data and already promising results are being examined and analyzed. During the next several weeks, refinements will be made and the final results will be presented in Summer 2017.


Networked Energy Services' New Generation Poly Phase Meter Is Now Available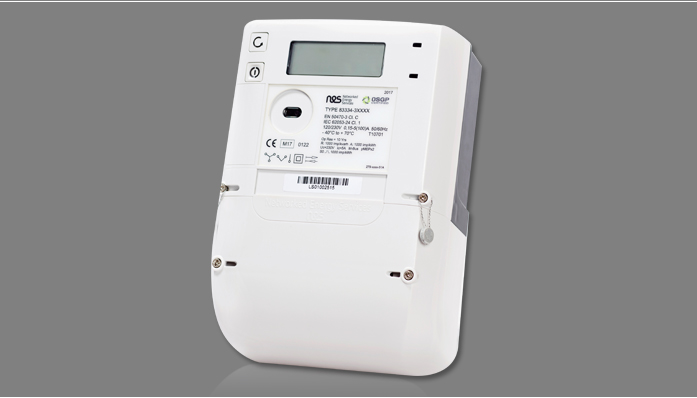 The new Poly Phase Meter, MTR3000, is the second model available from the Gen 4 product family, which introduced a flexible and expandable meter platform that can satisfy today's smart metering requirements as well as future anticipated distribution grid sensor capabilities. The Gen 4 Poly Phase Meter incorporates many innovative design ideas including customer suggestions, while its foundation is built on top of NES's proven technologies.

The Gen 4 Poly Phase Meter, which was previously introduced at European Utility Week in November 2016, is now being produced and available for customers to order and use within their existing smart metering systems. The Gen 4 Platform is fully interoperable with previous generations of OSGP meters, Data Concentrators, and System Software, in addition to providing many valuable features and benefits including:

• New I/O options including 2 MEP (Multipurpose Expansion Port) interface ports which expand flexibility to support various types of HAN (Home Area Network) and WAN (Wide Area Network) devices
• Tamper resistant security chip for key storage
• Apparent power and apparent energy measurements
• Backup power option for real time clock and tamper monitoring
• UC4 compliant load disconnect contactor
• Multi-core processing to support multiple application deployment

"This new generation meter is another example of our commitment to invest in technology improvements for our customers to help them deploy smart grids with higher grid security, safety, efficiency, and reliability," said Michael Anderson, Group President and CEO of NES. "This new platform enables support for both traditional AMI billing use cases as well as new use cases for providing more reliable and resilient distribution grid operations."


The 2017 European Smart Energy Award for Cyber & Data Security awarded to the NES Patagonia Platform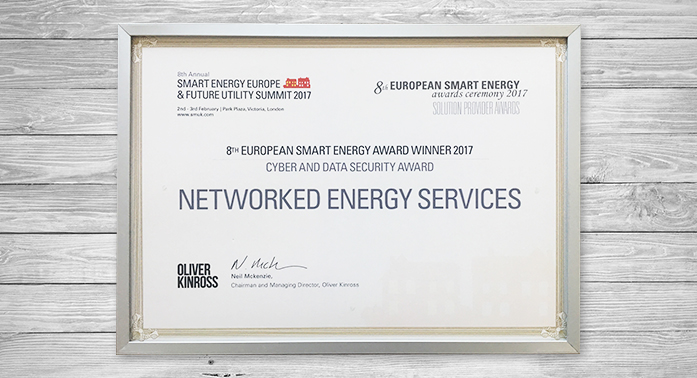 NES' Patagonia Security solution won the 2017 European Smart Energy Award for Cyber and Data Security. The award was presented to NES at the 8th Smart Energy Europe Summit and Future Utility Summit in London. The award recognized not only innovation and thought leadership associated with smart grid security but, more importantly, actual implementation of industry leading smart grid security solutions.

The judges, comprised of utilities and industry experts from a range of companies around Europe, selected NES because its advanced security architecture strengthens the ability to prevent, detect, isolate, and respond to misuse of grid assets and malicious behavior. Specifically, the judges were impressed with how NES enables its customers' ability to protect information, ensure data integrity and maintain an efficient, secure smart grid.

"We had many outstanding companies nominated for the award. NES won our award because we believe it is an industry leader in smart grid security, for example, by developing and introducing security solutions like Patagonia, a new benchmark in smart metering security," said Ben Morais, Senior Business Development Manager for Oliver Kinross.

"Security is a serious threat to the industry and hence it is our primary focus. We are honored to receive the European Smart Energy Cyber and Data Security Award," said Michael Anderson, Group President and CEO of NES. "We thank the judges for recognizing that NES is at the forefront of smart grid security innovation. Smart metering and smart grid security is our number one priority, and we understand that the public can only trust a smart grid, if they have full confidence in its security, safety and reliability."


| | |
| --- | --- |
| NES Gives Back to the Community! | |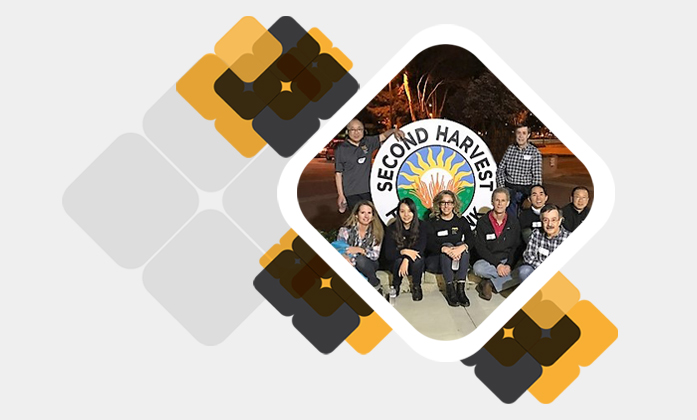 During the beginning of 2017, NES participated in volunteering activities at the Second Harvest Food Bank. As part of Silicon Valley, NES has the duty to give back to that community, starting with the needy.

Second Harvest Food Bank is based in Silicon Valley and is one of the largest food banks in the nation. They distribute nutritious food to over 320 nonprofits at more than 850 sites. Volunteers represent an integral part of the success of Second Harvest's ability to help provide food to people in need in our community.

During this Corporate Social Responsibility (CSR) activity, NES employees signed up to sort food and organize food donations into different categories at their San Jose Cypress Centre warehouse. Socially responsible initiatives are truly a win-win situation. Not only do they give employees an opportunity to get more out of life, they also make a real difference in the world.

At the end of that day, the NES volunteering team was exhausted, but it left everyone with a boosted morale that leads to greater productivity at work.

Thank you to all of you who volunteered at this event. Together, we can make a difference!


Copyright © 2017. All rights reserved.