The Smart Grid People
CEO 2017 Message, Tauron's Project Update and more
Newsletter January 2017

Message from NES President & CEO, Michael Anderson
Welcome to 2017!
As we step into the a new year of opportunity, challenges, and changes in the overall Smart Energy industry, I am more optimistic than ever about what we will accomplish for the industry and, most importantly, how our collective efforts will help usher in a new era of energy efficiency, reliability, and security.
I continue to remind myself we are just at the beginning of what will be one of the greatest industry transformations in history. With the world's population exceeding 7 billion people, ever increasing demand for energy, accelerated depletion of fossil fuels, slow adoption of new technology and processes – one could conclude we are in an industry crisis. But, I call it a crisis of opportunity where there is the responsibility and mandate of all industry players to unify and carefully, yet urgently, foster this essential industry transformation. At NES, we continue to invest in an overall strategy to help bring about this transformation. At the core, this strategy rests on a commitment to partner with the industry participants to evolve and define the overall energy value chain so we can deliver innovation to bring about remarkable changes in grid security, reliability, and efficiency. This innovation commitment culminates in our Patagonia Energy Applications Platform and our services and support expertise to assist our customers to realize long term value as they deploy the applications to fundamentally change energy delivery and customer engagement. Together with other OSGP technology partners, NES aspires to enable our customers to network what has been a fragmented distribution infrastructure into a unified and integrated platform. Further, we are committed to modern, industry-standard open interfaces to ensure integration of all critical distribution management systems for seamless monitoring and control.

In 2017, we will complete the transition to the NES Generation 4 platform. This not only enables dramatic advances in networking capabilities with other critical infrastructure like water, gas and heat meters, but also opens control and monitoring applications with critical elements like distribution level solar resources and demand response applications. These advances also include factory configurable communications choices like G3-PLC, GPRS, and other valuable options to promote choice and convenience. Further, we are implementing more value in our distribution control nodes solution portfolio with the addition of energy balancing, transformer monitoring, and new fault detection and isolation applications. And, 2017 promises significant new functionality in our operations control and monitoring software, enabling new advances in network provisioning and management,and also data collection and correlation for decision support. Finally, and most importantly, we continue our mission to provide industry leading security with new advances in threat detection and isolation and end to end system administration.

In closing, I want to thank all our customers and partners for their continuous support and engagement as we all work together to transform the industry and bring about the changes required to usher in a new era of energy efficiency. Be sure to follow us on social media for news, conferences, and other relevant events where we can network together to make 2017 a year of success and progress for the industry.


Sincerely,
Michael Anderson
Interoperability & Great Performance in Tauron's Smart City
Wrocław Project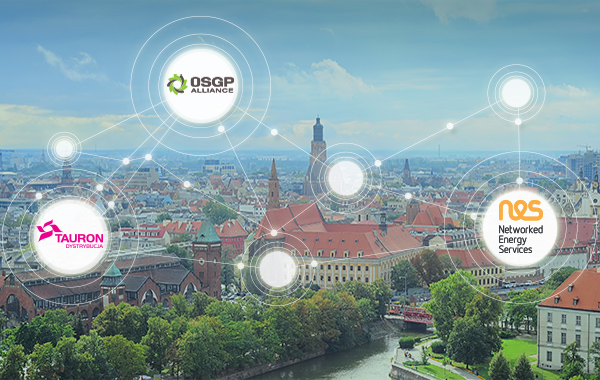 Tauron's rollout of smart meters in the city of Wrocław in Poland is continuing and is scheduled for completion in 2017. When the project is completed, it will have approximately 330K smart meters installed using OSGP BPSK for communications including the latest OSGP security upgrade.

There are about 200K smart meters from NES and 130K smart meters from Apator, as well as about 2000 NES data concentrators. The project has successfully shown the interoperatability and interchangeability of the OSGP smart meter from multiple vendors. The meters provide 4 values (active power + and -, reactive power + and - ) for 15 minute load profiles and energy billing data and events each and every day. The NES system continues to exceed the required performance KPIs associated with Tauron's project.

The day n+1 , 7:00 KPI 98,0 %
The day n+2 , 12:00 KPI 99,0 %
The day n+6 , 24:00 KPI 99,5 %

In addition to delivering meter data to the utility, Tauron is using the NES system to deliver consumption information directly to its customers via the wireless M-Bus radio installed within the NES meter for local communications. The data is sent from the meter to an in-home gateway that allows the customer to access the data via a variety of customer user interface devices. The service from Tauron provides data from the smart meters to customers every 30 seconds. Later this year, more detailed information about the results of Tauron's project will be provided after the installation phase is completed.
OSGP (Open Smart Grid Protocol) Alliance Leads Successful
Smart Grid Security Summit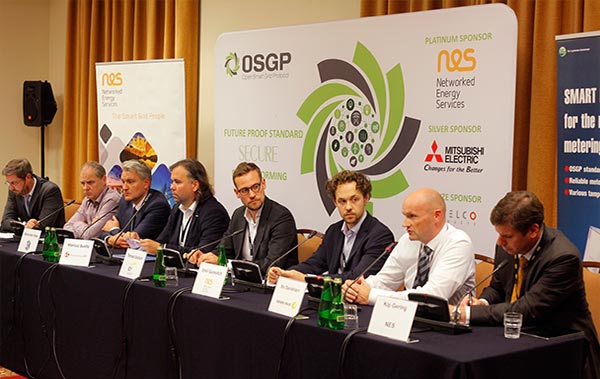 On September 28th, 2016, the OSGP Alliance gathered leading security experts together in Gdansk, Poland to emphasize the importance of security solutions for smart metering and smart grid applications in a successful Smart Grid Security Summit.

The OSGP Smart Grid Security Summit was held in collaboration with the Polish Ministry of Energy, and was attended by the Ministry, utilities, and vendors including leading security and industry experts. The keynote speakers were Andrzej Kazimierski from the Polish Ministry of Energy and Mariusz Busilo from Mazovia Cluuter ICT / Supervisory Board PGE EXATEL, who presented information regarding the Polish Ministry of Energy Grid Security Strategy and Legal Challenges.

The other distinguished speakers were Tomasz Szalach from Ernst & Young, Emil Gurevitch from NES, Mariusz Jurczyk from Tauron, Aleksander Babs from the Institute of Power Engineering, Poul Eriksen from Develco and Bo Danielsen from SEAS-NVE in Denmark. Key topics included defensive strategies against common attacks, NES Smart Grid Solution security approach, Tauron's Advanced Metering Infrastructure (AMI) Case Study, comprehensive smart metering security assessments, home area networking security, and a roundtable discussion with industry leaders centered on today and future trends.

Attendees were able to learn about important security implementations and capabilities in the Open Smart Grid Protocol (OSGP) that utilities are successfully using in various OSGP based smart grid implementations. One of the highlights was the opportunity to learn about real world projects, such as Tauron's AMIplus Smart City Wrocław project. Tauron's AMI Project Manager Mariusz Jurczyk presented a case study that explained how Tauron put great emphasis on security in its 330k OSGP based project that aligns with the recommendations outlined by the Ministry of Energy and presented by EY at the Summit.
| | |
| --- | --- |
| EUW 2016 Summary | |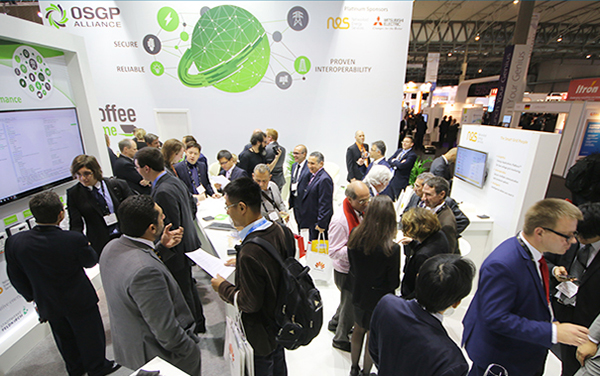 In November, NES was among the exhibitors at the European Utility Week (EUW) 2016, which took place in Barcelona, Spain. NES participated in EUW as part of the OSGP Alliance booth, along with several other vendors from the OSGP Alliance including Mitsubishi Electric, One Nordic, ETM, Greenbird and Develco. As usual, the EUW conference was well attended including more than 11,000 attendees from 113 countries.

In the OSGP Alliance booth, NES demonstrated both software energy applications and hardware interoperability of OSGP devices. Also, NES introduced the next generation (Gen4) polyphase meter, including its support of G3-PLC and GPRS communications, in addition to the existing BPSK communaication PLC solution.

Emil Gurevitch, NES Information Security Expert, was an invited speaker at the event. Emil spoke about identifying and avoiding smart grid security pitfalls and participated in a panel discussion about identifying cybersecurity utility risks. Security was an important topic at EUW and NES was recognized for its expertise and experience with smart grid security.

NES and the OSGP Alliance were very pleased with the outcome and we are already looking forward to next year's European Utility Week, which will take place on 3 – 5 October, 2017 in Amsterdam. So mark your calendar now and start planning your visit and/or your participation in the OSGP Booth!
| | |
| --- | --- |
| | NES Leadership Spotlite |
Kip Gering, Vice President
of Product Management & Marketing

As Vice President of Product Management and Marketing, Kip Gering is responsible for overall product strategy, lifecycle, profitability and business management associated with the NES solution portfolio. Kip is a senior executive with more than 15 years of experience in the electric utility sector delivering customer focused solutions in the areas of workforce management and smart grid solutions.
Prior to joining NES, Kip held various product management positions and ultimately led the product management teams for smart grid solutions at Itron with solution portfolio responsibility encompassing electricity metering, sensing, networks, and software applications. Prior to Itron, Kip was a commissioned officer in the United State Air Force responsible for the management of classified R&D projects and delivering new capabilities to the US Space Command operational units. Kip earned a Bachelor of Arts Degree in mathematics with a minor in information systems from The Citadel and a Masters of Business Administration Degree from Gonzaga University in the United States.
Tony Garcia, Managing Director & CEO
European Region

As Managing Director and Chief Executive Officer (CEO) of the European Region, Tony Garcia leads overall market strategy and growth initiatives, sales, professional services, and customer satisfaction for Europe. He is focused on working with NES customers to deploy innovative and valuable Patagonia Energy Applications in conjunction with NES customer grid modernization programs.
Tony Garcia brings over 20 years experience in senior leadership roles, beginning his career with active military service in the British Army Royal Signals (communications branch). Since leaving the services, Tony has led growth and operations modernization in both the energy and communications industry, with roles at service providers like British Gas, SITA, Sky and large vendors including, Ericsson, Amdocs, and HP. Most recently, Tony led International growth for Synchronoss, a leading provider of white-label cloud and activation SaaS solutions to Apple, Microsoft and Tier 1 mobile and fixed telecom carriers. Tony holds an Electrical and Electronic Engineering Honors Degree from Southampton University, is a Chartered IT Professional, Certified Togaf Enterprise Architect, Prince 2 Practitioner and is pursuing a Masters of Business Administration Degree from Bournemouth University in the United Kingdom.
| | |
| --- | --- |
| | Our Latest News |
Copyright © 2017. All rights reserved.