The Smart Grid People
NEWSLETTER JULY 2017
SUMMER EDITION

NES Organises Roundtable at World Scientific & Engineering
Congress 2017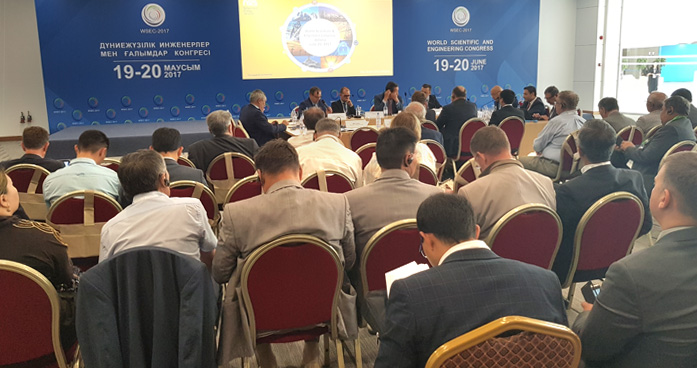 Last month, NES organised a roundtable titled 'Pioneering Future Energy in Kazakhstan' during its participation at the World Scientific and Engineering Congress (WSEC) held under the theme 'Energy of the Future: Innovative Scenarios and Methods of Their Implementation' from June 19 to 20, 2017 at Astana City.
The roundtable was held on the second day of WSEC-2017 in collaboration with the National Engineering Academy of the Republic of Kazakhstan to throw the spotlight on NES' role as a pioneer in the Smart Grid Revolution. Michael Anderson, President and CEO of NES, emphasized the company's growth as a fully-integrated global smart energy provider as well as highlighted the ways in which it can help Kazakhstan's electric utilities to usher in a new era of smart energy.
Anderson said: "WSEC-2017 is a leading conference on energy and a perfect platform to discuss cutting-edge innovation and the latest developments taking place in the field. The roundtable on 'Pioneering Future Energy in Kazakhstan' was an enriching session where we delivered our vision for safety, reliability and efficiency of the grid with our proven 3-tier open multi-application platform offering performance, security and interoperability with Kazakhstan's smart energy initiative."
Bakytzhan Dzhaksaliyev, Deputy Minister of Energy of Kazakhstan, was among the participants of the roundtable who discussed Kazakhstan's aim to become one of the world's top 30 developed nations by 2050. According to him the power sector across the entire value chain – generation, transmission, distribution and demand – will play a driving role in sustaining the country's efforts towards modernization and diversification.
Likewise, Mark Ossel, Treasurer, OSGP Alliance, focused on the Smart Grid Vision by highlighting its cornerstones – interoperability, performance and security. He said that intelligent power grids can detect theft, manage power failure, balance load, and provide end-to-end-security. The continuing emergence of a decentralized, local generation and feed-in form of energy, along with local storage, will require the utilization of low voltage grid management solutions.
Other participants included The Committee for the Regulation of Natural Monopolies, Protection of Competition and Consumer Rights at the Ministry of National Economy of Republic of Kazakhstan; Kuanysh Bektemirov, Chairman of the Board of JSC 'KEGOC' and JSC 'Samruk Energy' and Representative of the National Welfare Fund 'Samruk Kazyna' Bakytzhan Kazhiyev, CEO of JSC 'KEGOC'; Almasadam Satkalyev, CEO of JSC 'Samruk Energy'; Levan Mtchedlishvili, Principal – Energy Division, Asian Development Bank; Professor Mohammad Shahidehpour, Illinois Institute of Technology; and Aleksandr Timchenko, Energy Manager and Deputy Director, Schneider Electric.

On the 6th of June, NES announced the appointment of two executives, Thomas Giese as its Chief Operating Officer (COO) and Will Mathieson as its Chief Financial Officer (CFO).
As COO, Thomas Giese will be responsible for the appropriate intersections of key business functions: finance, operations, product, sales, delivery, and quality. Mr. Giese will directly lead the overall company operational teams of procurement, planning, quality, and human resources. Thomas brings over a decade of executive experience from Honeywell Corporation where he served as Chief Financial Officer of the Smart Energy Division, resulting from Honeywell's $5.1 billion-dollar acquisition of Elster Corporation. Prior to that, he served in several executive level finance and operations positions in Elster's Gas & Electricity business. Thomas earned a Masters of Business Degree from the University of Applied Sciences at Wiesbaden.
"NES's smart grid vision of delivering a more secure, efficient, and reliable smart grid has never been more compelling," said Thomas Giese. "I am truly excited and ready to start driving results that improve operations to accelerate the delivery of this vision."
The newly appointed CFO, Will Mathieson, will be responsible for leading the overall global finance and accounting organization. He will also be responsible for Investor Relations and the NES global information technology systems (IT), staff and infrastructure. Mr. Mathieson brings over twenty years of financial leadership and acumen to NES. His last position was the Global Vice President of Commercial Finance of the energy conglomerate Abu Dhabi National Energy Company with over $5.2 billion in annual turnover. Prior to the role of Global Vice President, Will held previous positions as the Group Controller of Tamoil, and various senior management positions with Shell. Will is a chartered accountant and holds a BA in Economics from the University of Stirling in Scotland.
"I'm excited to be joining the NES team in this role and am looking forward to working with our investors and supporting financial institutions to support growth and financial objectives of NES," said Will Mathieson.
"I am very pleased with the addition of Thomas and Will to our management team," said Michael Anderson, President and CEO. "As NES continues to grow, their leadership, expertise, and industry knowledge will have a significant impact to our long-term results of our business plan while also ensuring the success of our customers."
2nd Annual Smart Grid Security Summit
in Dubai Addresses Critical Security Needs

The 2nd Annual Smart Grid Security Summit, a security conference dedicated to utilities, regulators, ministries, consultants, researchers and vendors, took place on Monday, May 22, 2017 at the Grand Hyatt Hotel in Dubai. The event was organized by the OSGP Alliance, the global non-profit association dedicated to promoting the adoption of the Open Smart Grid Protocol (OSGP), and sponsored by NES. The conference has gathered industry stakeholders from the region and the world to discuss critical smart grid security needs through a series of case studies and related presentations.

Mariusz Jurcyzk, Advanced Metering Infrastructure Project Manager for Tauron Group, the second-largest electricity supplier in Poland serving approximately 5.4 million customers, presented the first case study on AMIplus Smart City Wroclaw, focusing on interoperability and security as the key priorities for Smart Grids.

H.E. Dr. Rashid Alleem, Chairman, Sharjah Electricity and Water Authority (SEWA), said: "The 2nd Annual Smart Grid Security Summit is highly relevant in the context of the UAE, which currently needs to address its rising energy demands through sustainable and clean energy. The Smart Grid system is a perfect solution for our diversification efforts to gradually steer away from non-renewable energy resources. The case studies and roundtable sessions provide valuable insights on energy-efficient technologies that will ensure uninterrupted supply, optimized efficiency, and rationalized consumption."

The session on 'NES Patagonia Security: A Practical Perspective' by Emil Gurevitch of NES focused on actual events and practices rather than on theories. While the first part of the session dealt with real-world examples, the second part focused on the benefits and features of the NES Patagonia Solution.

"At OSGP, we are impressed by the latest innovations in the Middle East and especially in the GCC towards increasing adoption of Smart Grid solutions," said Bo Danielsen, Chairman of the OSGP Alliance, and the head of installation and metering at SEAS-NVE. He continues, "Alongside recognizing the long-term benefits of Smart Grids, it is imperative to have a deeper understanding of the associated security issues to protect the data generated by the network from any breaches. The 2nd Annual Smart Grid Security Summit continues to inform the audience about the functioning of the grids and advanced metering infrastructures (AMI) as well as offers recommendations through successful case studies to help the region overcome its reliance on oil-based energy sources and make a swift move towards a non-oil economy."

The case study entitled 'A Collaborative Approach to Grid Security' by Danielsen and Gurevitch was about NES's joint project with consumer-owned energy company SEAS-NVE for a Danish utility. This session emphasized the need for collaboration on security within the grid industry as well as presented a perspective on a secure grid and ways to achieve it. On the other hand, the session on 'Emerging Cyber Threats and Counter Measure' by Muhammed Adil Hayat Khan, Security Infrastructure Specialist, Health Authority Abu Dhabi, emphasized on digital vulnerabilities and possible solutions to address this type of problem.

Speaking on 'Managing Smart Grid Devices Security and Configuration Challenges,' Wail Gadour, Sales Consulting Director - MEA, Oracle, said: "A Secured Smart Grid is a priority for utilities with smart meters and necessary to derive multiple benefits of the network, including rationalized consumption of water and electricity and reduction in carbon footprints. We need to build frameworks using the latest techniques and algorithms that are quick to detect anomalies and avert major mishaps."

Role of Smart Grids in Building Smart Cities
By: Michel Madi, CEO - Middle East, Africa & India,
Networked Energy Services Corporation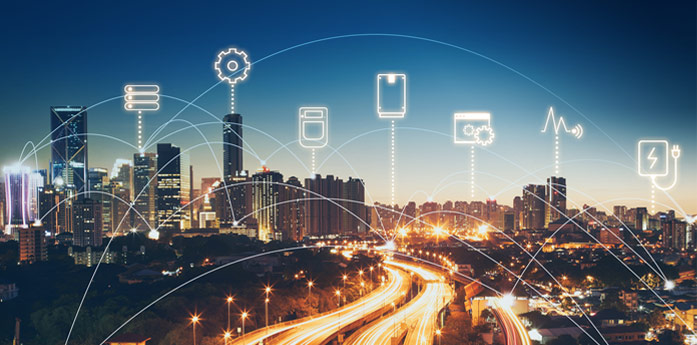 According to a study by the WHO, nearly 54 per cent of the global population resided in cities in 2015, at an increase of 30 per cent since 1950 . The urban residents are forecasted to rise to 60 per cent of the world population by 2030, adding 2.5 billion more people to urban areas by 2050. With such rapid growth, future cities need to become smart to make judicious use of non-renewable resources and existing infrastructure and mitigate the impact of climate change and global warming.
While there are several features of a smart city, the single most important aspect is its energy infrastructure, which impacts all other critical functions of the city and a Smart Grid is the solution for a sustainable, resilient and affordable energy infrastructure. But what is a Smart Grid? It is a dynamic, interactive, and real-time infrastructure concept that modernizes power systems through automation, remote monitoring, and control. It also informs consumers about the usage and cost to enable them to make informed decisions.
Research and Markets' 'Emerging Markets Smart Grid: Outlook 2017' report states that most Smart Grid investments have been concentrated in developed nations. Countries in North America, Western Europe, and East Asia represent over 75 per cent of the installed base of smart meters and other pioneering smart grid initiatives. For instance, the USA passed the bill for Smart Grids as early as in 2007 and earmarked funds to develop its smart grid infrastructure.
Since then, the US Government has launched several initiatives, including the Smart Grid Investment Grant (SGIS) for 2009-2014 to modernize the country's electrical infrastructure. The USD 8 billion joint investment program, consisting of 99 cost-shared projects and involving more than 200 electric utility providers and participating organizations, deployed more than 15 million smart meters, 1,200 phasor measurement units, 19,000 units of distribution technology, and an assortment of customer systems. Likewise, nearly 30 Smart Grid Projects with a total investment of EUR 300 million were started in Europe.
Now many developing countries are exploring the multiple benefits of Smart Grids. Almost 50 countries forecasted to invest USD 268 billion in building Smart Grid infrastructure in the next 10 years. Among them is the MENA region that is rapidly adopting renewable energy initiatives to manage its robust energy demands. The deployment of Smart Grids in the GCC can help the region save up to USD 10 billion in infrastructural investment by 2020. The UAE leads the region with its path-breaking initiatives to build smart cities. It launched the Energy Plan 2050 to increase the contribution of clean energy and decrease dependence on natural gas to generate power in line with UAE Vision 2021. It also pushed the Dubai Clean Energy Strategy during the inauguration of the second phase of the Mohammed Bin Rashid Al Maktoum Solar Park in 2015, which involves AED 100 billion in Green Fund investments and AED 50 billion for the park.
Smart Grids are modern power networks that are the future of the energy sector as they have the tremendous potential to improve the quality of power and make energy sources reliable through demand response and comprehensive monitoring capabilities. Through the intelligent use of digital technologies and innovative application, they can contribute to in the development of zero-energy buildings and green communities. Smart Grids also encourage consumers to rationalize their consumption by bringing them closer to energy sources and providing them greater control over their usage. However, initial installation can pose a significant challenge, which can be addressed by formulating policies and offering incentives by governments to encourage investment in transforming legacy power networks to Smart Grids.

Copyright © 2017. All rights reserved.