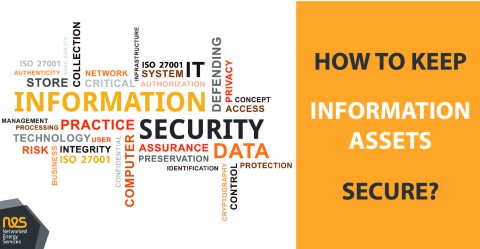 How to Keep Information Assets Secure?
Mar 10, 2022
It is important for companies to protect the security of its business information in the face of incidents and unwanted events. When it comes to keeping information assets secure, organizations can rely on the ISO 27001, which provides requirements for an information security management system (ISMS). Companies use ISO 27001 to manage the security of assets including customer project information, intellectual property, and financial information.
Per the ISO/IEC 27001 standard, it "specifies the requirements for establishing, implementing, maintaining and continually improving an information security management system within the context of the organization. It also includes requirements for the assessment and treatment of information security risks tailored to the needs of the organization."
Compliancy to ISO 27001 is not a guarantee that an information security breach will never incur. However, having a robust ISMS in place does mean that risks are reduced, and business disruption managed carefully.
There are many operational benefits to having an ISMS in place, including:
Optimization of operations with clear responsibilities being established
Increased protection of internal development and maintenance resources
Protection of revenue streams, company profitability and improvement of NES business resilience
Ensuring the supply of goods and services to customers/partners and improving their confidence in their supplier as a reliable, trusted partner.
The standard provides companies with the necessary know-how for protecting their most valuable information, and in addition, a company can get certified for ISO 27001, which allows them to prove to its customers and partners that it safeguards their data.
NES is committed to protecting the security of its business information in the face of potential incidents and unwanted events, and has implemented an ISMS that is compliant with ISO/IEC 27001:2013. In addition, NES has received certification after a thorough audit and examination by an independent third party certification company.
NES ISMS procedures and controls have been designed to keep NES assets secure with respect to confidentiality, integrity and availability. This allows NES to minimize risks of security breaches that could have some legal, business implications with a focus on managing the security of NES assets including computers, networks, IP rights, code, design or other information entrusted by 3rd parties including customers and partners.
Author:
Larry Colton - Director of International Business Development and Government Affairs at NES