Join our awesome team to work hard, make a difference and succeed in a fast-paced environment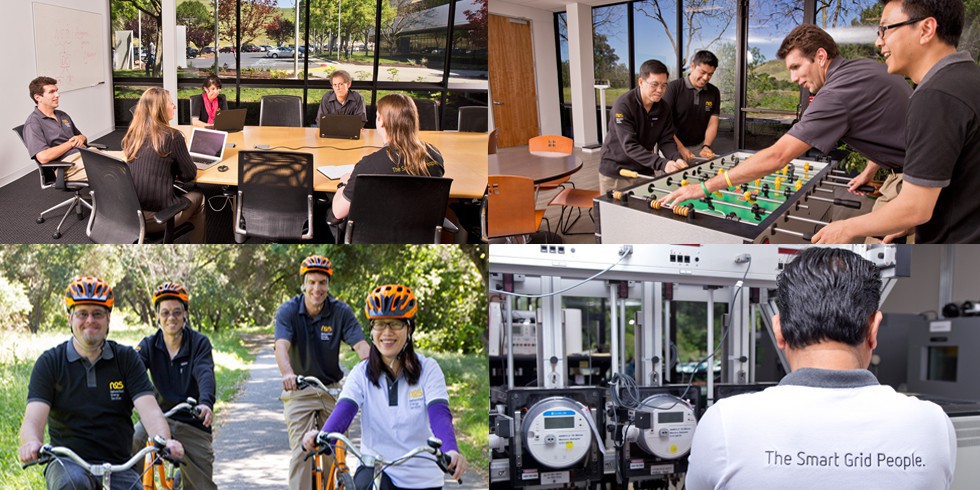 Do you want to help change the world? 

Networked Energy Services is helping to usher in a new era of safety, efficiency and reliability for electrical utilities all over the world. With some of the most talented minds in the industry, we are developing leading edge software, communications, and electrical grid sensing solutions to help utilities distribute electricity in innovative ways while incorporating renewable energy sources in an efficient and safe manner. We are also enabling end users to become active participants in energy conservation to help preserve our precious resources and promote green habits to help make the world a better place. We are able to achieve our vision through deep industry knowledge and experience, the pursuit of superior products, a passion for quality, and a healthy dose of light-hearted humor and fun.

We're growing and need your help to continue our great progress. Ask yourself if NES is a good fit for you.
You are energized by new technology, emerging markets, aggressive goals and challenging assignments.
You feel rewarded seeing products you helped design, build, and sell get deployed throughout the world.
You seek out and appreciate a team of intelligent, motivated and inspiring individuals across every discipline.
You enjoy working in a close knit team where professionalism, mutual respect, teamwork, discipline and commitment are kept in high regard.
You care about global issues and want to contribute to something meaningful for generations to come.
Make a difference in the world. Join NES and help us reign in a new era of energy management and conservation.

We're always interested in working with passionate and professional people. If you are interested in working with us,
please email us at hr@networkedenergy.com
Poland Career Opportunities
Job Title Location
IT Operations Support Gdańsk
We are recruiting for the vacancy of IT Operations Support.
EXPERIENCE
Experience with Windows and Linux servers (AD, DHCP, DNS, GPO) installation, configuration and management
Experience with virtual environment based on VMware vSphere 5 or higher
Experience with NAS/SAN, Network switches configuration and management
Strong IT/Server skills including VMware, Windows Server, SQL Server etc.
The job may require traveling and performing other duties in remote sites as assigned
LOCALE
Poland-Gdansk
EDUCATION
Bachelor's degree in Computer Sciences or Computer Systems
JOB DESCRIPTION/RESPONSIBILITIES
Work closely with Global IT Manager, Security architect and NES Manufacturing
1st line of support for international employees located throughout America, Europe & the Middle East with PC, network and help-desk related issues; Maintaining the continuity of computer devices, services and software
Support in administration and management of the mission-critical operation of the IT and Manufacturing Systems in all NES global offices, NES Contract Manufacturer factories in Poland and Romania
Monitor servers' health and resources, validate backups and logs, archive old logs and data
Operations on Firewall, VMware ESX servers hosting Windows and Linux servers, SQL databases and general IT infrastructure such as various VLAN, VPN and DMZ
Security development in all key IT areas of NES (server, networks, services, cloud)
Work with IT vendors and manage PO process
Support and monitor IT environment to keep NES Manufacturing Production lines running
Constant IT documentation updates (IT Knowledgebase, ISO procedures, User guides/how-to docs)
Proactive planning and execution of maintenance and software / hardware upgrades.
Manufacturing Engineer Gdansk
We are recruiting for the vacancy of Manufacturing Engineer.
EXPERIENCE
Manufacturing engineering
Quality requirements
Computer skills
English language (spoken/written)
LOCATION

Poland-Gdansk
EDUCATION

Masters' degree in technical area
JOB DESCRIPTION / RESPONSIBILITIES

Responsibility for New Product Introduction (NPI)
Developing and improving manufacturing processes by studying product and manufacturing methods
Ensuring highest standards of quality achieved by contract manufacturer in regard to PCBA manufacturing, product assembly, test and packaging
Documentation ensuring, complying with all regulatory requirements
Developing manufacturing processes by studying product requirements
Researching, designing, modifying, testing, and documenting manufacturing methods and equipment
Conferring with equipment vendors, product development teams, manufacturing test development teams and contract manufacturer
Assuring product and process quality by testing finished product and process capabilities
Providing manufacturing decision-making information by calculating production labor, cycle times and material costs; reviewing production schedules; estimating future requirements
Preparing product and process reports by collecting, analyzing, and summarizing information from manufacturing systems including throughput, yields and quality corrective action records
Providing manufacturing engineering documentation covering MPI, PCBA assembly requirements, traceability, and product handling/packing requirements
Presentation of technical information to engineers and management
Europe Career Opportunities
Job Title Location
Regional Sales Director Nordic Region
We are recruiting for the vacancy of Regional Sales Director.
EXPERIENCE:
5+ years' experience in senior Sales positions within technology/engineering industries
Results-focused mindset
In-depth knowledge of the Utility or Telecoms sectors
Demonstrable competency in Sales account management and business development
Expertise in Sales forecasting and planning
Working knowledge of IT/Business infrastructure and MS Office
Outstanding organizational, time management and ethical leadership skills
Excellent interpersonal skills and personal integrity
Outstanding verbal and written skills, and experience working with staff on all levels.
Aptitude in decision-making and problem-solving and have foresight into potential issues
International business experience


LOCATION:
Nordic Region


EDUCATION:
Bachelor's degree in engineering.

JOB DESCRIPTION AND RESPONSIBILITIES:

Management of existing customers and market partners, assisting those partners to promote the NES brand and capabilities within the market.
Winning new business within their region, increasing NES share of the Smart Grid market.
Provide accurate Sales forecasts to the business, allowing NES to provide market-leading customer service now and into the future.
Active contribution to the Strategic Planning process of the business, including helping to identify market trends and requirements
Gathering and presenting to senior management accurate and timely market intelligence about customers, competitors, regulatory requirements, technology trends, etc.
Specific responsibility for NES business in Sweden, Denmark, Finland and Norway