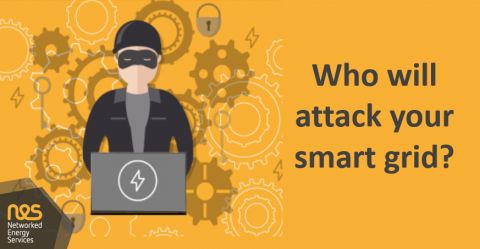 Who Will Attack Your Smart Grid?
Jan 18, 2021
DSOs have invested in smart grid technology to make their businesses more efficient, reduce energy losses/wastage, automate back-end processes (especially billing, connection, and disconnection) and tackle fraud. Unfortunately, the technology introduced to do this also exposes DSOs to attack by cyber-criminals.
By attacking the smart grid cyber-criminals can introduce outages, introduce operational inefficiencies, mislead strategic decision making and "steal" the infrastructure by rendering it non-functional at the flick of a switch.
Who would want to do this and why?
| | | |
| --- | --- | --- |
| ACTOR | THEIR MOTIVATION | WHAT THEY CAN DO |
| Hobbyist | Test their ingenuity against "the system" | Generally, achieving access and posting a notification is sufficient, but damage to public image can still be large |
| Employee | None, but human error plays a role | By accident, it is possible to significantly weaken the defensive protection layers, especially as things like key management and multiple-inter-leaved defences layers introduce complexity |
| Disgruntled ex-employee | Getting back at the boss | Similar to hobbyist, focused on the public image of their ex-employer, but potentially damaging infrastructure and service along the way |
| Hactivist | Promotion of an ethical cause | Similar to disgruntled ex-employee |
| Local Criminal | Localised fraud | Tampering with meter records to reduce bills to the "customers" of the local criminal |
| Organised Criminal | Major fraud and ransom/extortion | Systematic interference of billing and operational systems and threat of major outages |
| Terrorist | Political or religious differences or greed | Motivated to cause actual damage with high profiles, such as actual major outages |
| Hostile Nation State | Alternative to military action, and often a lot cheaper and more deniable | Weakening and damaging infrastructure, often over long time-periods, developing silent "beach-heads" from which to mount attacks in the future, causing automation to fail and introducing outages |
Author:
Jon Wells - Vice President of Customer Solutions at NES