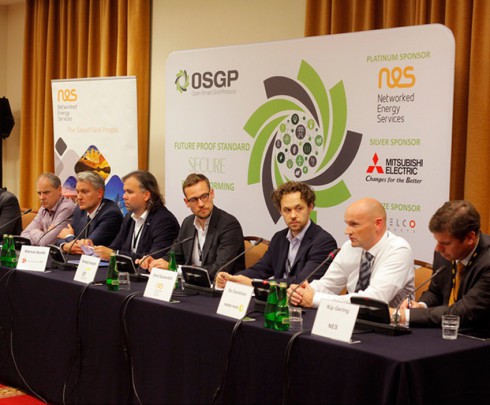 Open Smart Grid Protocol (OSGP) Leads Successful Smart Grid Security Summit
Oct 05, 2016
The OSGP Alliance gathered leading security experts together to emphasize the importance of security solutions for smart metering and smart grid applications.

Amsterdam, The Netherlands, October 5, 2016 - The OSGP Alliance (www.osgp.org), an independent, global, not-for-profit association comprised of prominent utilities, systems integrators, service providers as well as smart grid equipment and software product developers, announced that it successfully completed a Smart Grid Security Summit on September 28th in Gdansk, Poland with industry and national leadership.

In collaboration with the Polish Ministry of Energy, the OSGP Alliance organized a Security Summit that was attended by the Ministry, utilities, and vendors including leading security and industry experts. The Keynote Speakers were Andrzej Kazimierski from the Polish Ministry of Energy and Mariusz Busilo from Mazovia Cluuter ICT / Supervisory Board PGE EXATEL, who presented information regarding the Polish Ministry of Energy Grid Security Strategy and Legal Challenges.

The other distinguished speakers were Tomasz Szalach from Ernst & Young, Emil Gurevitch from NES, Mariusz Jurczyk from Tauron, Aleksander Babs from the Institute of Power Engineering, Poul Eriksen from Develco and Bo Danielsen from SEAS-NVE in Denmark. Key topics included defensive strategies against common attacks, NES Smart Grid Solution security approach, Tauron's Advanced Metering Infrastructure (AMI) Case Study, comprehensive smart metering security assessments, home area networking security, and a roundtable discussion with industry leaders centered on today and future trends.

The participants and speakers all thought the Security Summit was very informative and of great value balancing the legal and governmental perspective with practical implementations of approaches to cyber security in smart grid technology. Attendees were able to learn about important security implementations and capabilities in the Open Smart Grid Protocol (OSGP) that utilities are successfully using in various OSGP based smart grid implementations. One of the highlights was the opportunity to learn about real world projects, such as Tauron's AMIplus Smart City Wrocław project. Tauron's AMI Project Manager Mariusz Jurczyk presented a case study that explained how Tauron put great emphasis on security in its 350k OSGP based project that aligns with the recommendations outlined by the Ministry of Energy and presented by EY at the Summit.

"When we are dealing with meter and billing data we are not only dealing with business critical data, we are also dealing with customer private data. That's is a great responsibility that we, as an industry, need to take seriously," said Bo Danielsen, the Head of Installation and Metering at SEAS-NVE. "With the tremendous possibilities that come with digital metering technology, also comes the threat from cyber hackers and criminals. It´s a common threat, so we should seek common solutions and share our experience and knowhow. And that is exactly why we at SEAS-NVE started the collaboration with NES and DTU, and that is exactly why I am so happy to see the OSGP alliance putting a focus on this subject."
"The event was outstanding and a great opportunity to collaborate with other industry experts," said Andy Robinson, the Chief Technology Officer of NES and also master of ceremony of the event. He added, "Cyberattacks against the power grid are very real. Collaboration between industry and government is very important for the development of security policies and standards while still enabling innovation. As a member of the OSGP Alliance, NES believes security is fundamental to everything we do."

About The Open Smart Grid Protocol

The Open Smart Grid Protocol (OSGP) is a family of specifications published by the European Telecommunications Standards Institute (ETSI) used in conjunction with the ISO/IEC 14908 control networking standard for smart grid applications. OSGP is optimized to provide reliable and efficient delivery of command and control information for smart meters, direct load control modules, solar panels, gateways, and other smart grid devices. With over 5 million OSGP based smart meters and devices deployed worldwide it is one of the most widely used smart meter and smart grid device networking standards.

About The OSGP Alliance

The OSGP Alliance, founded in 2006 as the Energy Services Network Association (ESNA), is an independent global, not-for-profit association that promotes the adoption of the Open Smart Grid Protocol (OSGP) and related services and infrastructure for smart grid applications. Members include utilities, software, hardware and service providers, and solution integrators that share a common goal and vision for promoting open standards for energy demand side management, smart grid and smart metering systems. More information about the OSGP Alliance can be found at www.osgp.org

Contact:
Marie-Louise van Rossum
Secretariat@osgp.org
You might be interested in: