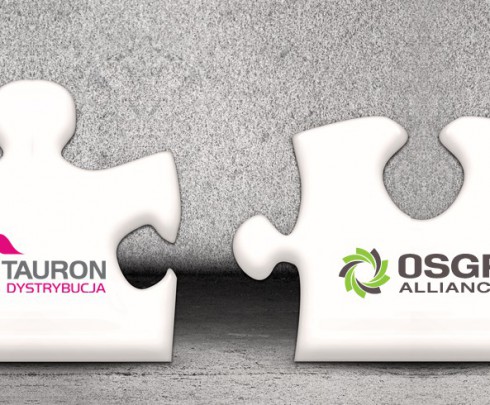 OSGP Alliance welcomes TAURON Distribution SA as new member
Nov 15, 2016
Amsterdam, The Netherlands, November 15, 2016 The OSGP Alliance is pleased to welcome a new member to its growing organization. TAURON Distribution S.A. from Poland is the newest member of the OSGP Alliance. Tauron Distribution, part of the Tauron Group, is the second largest electricity supplier in Poland supplies electricity to approximately 5.4 million customers in Poland.

TAURON Distribution S.A. is in the process of completing the installation of 330,000 smart meters as part of its AMIplus Smart City Wroclaw project. The project, which began in 2014 and is scheduled to be completed in 2017, uses interoperable smart meters from multiple meter vendors that are compliant with OSGP (Open Smart Grid Protocol).

"The aim of our Wroclaw smart metering project is to provide customers with the tools for effective monitoring of electricity consumption, and assist the company with the next step in improving its electricity distribution process", says Robert Zasina, President of TAURON Distribution. "Our decision to join the OSGP Alliance is directly because of the results of this project using interoperability OSGP smart meters from NES and Apator. We look forward to contributing to the Alliance and sharing our experiences with other Alliance members," "The energy industry is facing countless new challenges. Most issues revolve around the 'energy trilemma' meaning the sector is striving to ensure that energy is secure, sustainable and affordable. The vision of OSGP is a strong participation of key industry stakeholders working together to realize the next generation smart grid leading towards the long-term goals of the smart grid: affordability, security and sustainability. We are excited Tauron is joining us in reaching these goals", says Bo Danielsen, Chairman of the OSGP Alliance. "On behalf of the OSGP Alliance, we look forward to incorporate their knowledge and know-how in the development and implementation of added value services in OSGP."

This week, the OSPG Alliance is exhibiting at the European Utility Week in Barcelona, which is expected to be attended by more than 12,000 visitors from more than 80 countries. "We are pleased to be part of this interesting event where we will meet with potential new members, our existing members, and share the latest developments on the Open Smart Grid Protocol and developments in the market".

About The Open Smart Grid Protocol

The Open Smart Grid Protocol (OSGP) is a family of specifications published by the European Telecommunications Standards Institute (ETSI) used in conjunction with the ISO/IEC 14908 control networking standard for smart grid applications. OSGP is optimized to provide reliable and efficient delivery of command and control information for smart meters, direct load control modules, solar panels, gateways, and other smart grid devices. With over 5 million OSGP based smart meters and devices deployed worldwide it is one of the most widely used smart meter and smart grid device networking standards.

About The OSGP Alliance

The OSGP Alliance, founded in 2006 as the Energy Services Network Association (ESNA), is an independent global, not-for-profit association that promotes the adoption of the Open Smart Grid Protocol (OSGP) and related services and infrastructure for smart grid applications. Members include utilities, software, hardware and service providers, and solution integrators that share a common goal and vision for promoting open standards for energy demand side management, smart grid and smart metering systems. More information about the OSGP Alliance can be found at www.osgp.org.

Contact:

Marie-Louise van Rossum
Secretariat@osgp.org
You might be interested in: