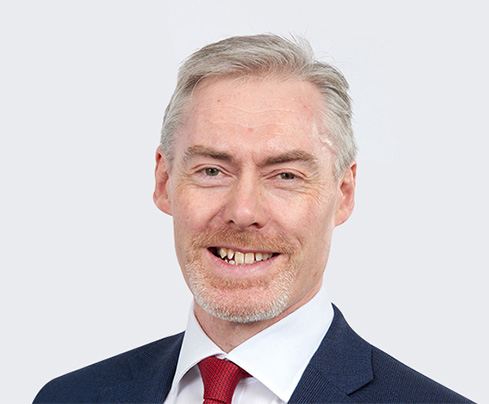 Welcome Message from David Thomson, New NES CEO
Jun 04, 2018
I am very pleased to have recently joined Networked Energy Services and honoured to be its new CEO. I look forward to a highly successful working relationship with all of our customers and partners.
Previous to joining NES, I held a variety of leadership positions within Honeywell Smart Energy, the Elster Group and Invensys plc. So I come to NES with a strong understanding of the industry and the needs and objectives of utilities. This is why I am so excited about NES, which has a great reputation for high quality, secure, interoperable standards-based solutions. I believe that NES is well positioned to help existing customers as well as other utilities realize smart grid benefits beyond just the traditional smart metering functions through our Patagonia Energy Applications Platform (EAPTM). Patagonia EAPTM, with its focus on applications and analytics integrated into a flexible framework, is unique within the market.
I believe the utility industry is at critical point as it needs to find the best ways to address a variety of issues including:
• Security
• Reliability
• New Regulation
• Competition
• Costs
• Distributed Energy Resources
I believe that technology can have a significant positive impact on all of these issues, and NES is committed to providing solutions and technologies that enable Utilities to address these critical items as well as other important issues. NES can provide secure solutions with upgradeable devices that improve reliability, reduce operating costs and offer integration with new supply sources including solar, electric vehicles, micro-generation and storage facilities. Our solutions can be utilized as an essential part of not just the smart grid but the larger smart city as the industry and markets mature.
As you probably know, NES has already developed a great core technology and offers an outstanding innovation base. We plan to continue this direction by building on our strengths and expanding our product and services to further support our customers. Some of the key areas of focus are:
Energy Applications Platform
We continue to be excited about the recent introduction of Patagonia Analytics solutions into the NES EAPTM product portfolio. These solutions will be important as our customers address the next wave of challenges and seek return on investment for their on-going investments in the smart grid. The NES Patagonia EAPTM leverages the distributed intelligence provided by our Distributed Control Nodes (DCNs) and smart meters, reliable and secure communications, and our Headend System (HES) to provide cost effective visibility of energy supply performance and characteristics in the low-voltage grid. This, in turn, can be exposed into SCADA Systems and other business decision making tools to help utilities: reduce technical and non-technical losses, reduce or defer infrastructure investment, operate more efficiently, and understand more about consumers' experiences.
Security
A continued top priority for NES is providing secure devices and solutions to ensure that smart metering and smart grid services and consumer information are protected. While GDPR has been a key focus recently for utilities and DSOs, data integrity protection will become more critical than even GDPR, as smart metering and smart grid information is used to make business decisions and automate processes. NES Intrusion detection and response provides an indispensable mechanism to identify unauthorised access, limiting exposure to attacks and quickly locking out the attacker. NES security follows a risk-based approach that tackles the real exposures and risks arising from a fast-moving threat-landscape, and has been reviewed and approved by a third party firm specializing in security audits. We will continue to innovate and strive to lead the industry in offering backwards compatible solutions that provide for protection of our customers' information and service reliability.
Communications
Another key NES objective is to provide solutions that offer robust, reliable and flexible communications. We will continue to enhance our communication technologies (PLC, cellular, Ethernet, etc.) to ensure that our communications performance and reliability remains the best in the industry and provide utilities with communications flexibility. We recently introduced our point-to-point (P2P) meter. This P2P 2G/3G meter provides connectivity over the mobile network, for those cases where PLC may not be the preferred solution, and integrates into the NES head-end system, so utilities can consolidate management of their meters with the existing PLC infrastructure. This reflects NES's commitment to make the communications with smart meters as reliable as possible and maintain our industry leading SLAs. The new P2P 2G/3G Smart Meter's capabilities include future proofing features such as over-the-air upgrades for modem and meter firmware, as well as a field swappable communication module design, allowing module replacements without interrupting electricity service to customers. The solution also supports unique system capabilities, such as SMS shoulder tap, quick system registration, and last gasp outage alarms that produce operational savings created by reduced installation costs and efficient data rate usage.
Production
In addition to our solution, our management team is keenly focused on executing our production strategy, which includes improving our production capabilities including providing better quality and shorter delivery times. By incorporating best practices and a continuous improvement philosophy, we will ensure that our support and delivery teams are able to meet all of our commitments. As part of our strategy, Jonathan Watt has joined our senior leadership team and will serve as our Chief Performance Officer. Jonathan is a highly experienced Supply Chain, Operations and Business Performance Improvement specialist who led the Procurement function within the Elster business from 2013 to 2017. He has experience and very strong contacts within the European electronics and metering markets at both customer and supplier levels. Initially, he will focus on our key supplier relationships and value chain, along with a broader concern of driving business performance improvement.
Summary
Our commitment to providing our customers with the most secure and reliable smart grid foundation remains essential to our business. We will continue to invest in R&D, with a goal to provide more innovation to the smart grid and smart metering solutions offered by NES. We are dedicated to furthering the success of smart grid initiatives and we look forward to joining together with you to deliver valuable results and measurable improvements in safety, reliability, and efficiency. If I have not met you yet, I look forward to meeting all of our customers and partners in person, and most importantly, we look forward to continue providing products and services that exceed your expectations and help the industry with the evolution and innovation towards establishing a truly smart grid.
You might be interested in: